BQ24078 1.5A Charger with Power Path Management
1.5A Standalone charger with Power Path Management. This BQ24078 is the state of art charging IC from Texas Instruments that supports Linear charging with proper power path protocol to provide more control over the power path.
It is packed with Reverse Current, Short-Circuit, Thermal Protection.
This IC also supports the System On and Off Control which is an excellent feature for battery operated devices. No additional microcontrollers are needed.
Features of BQ24078 1.5A Linear Battery Charger IC –
Supports up to 1.5-A Charge Current with Current
Monitoring Output (ISET)
Programmable Input Current Limit up to 1.5 A for
Wall Adapters
System Output Tracks Battery Voltage
System On/Off Control
Reverse Current, Short-Circuit, and Thermal
Protection
Pin configuration of BQ24078 –
Application Schematic –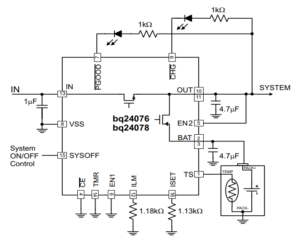 Product attributes of BQ24078 –
MFR : Texas Instruments
MFR-PN : BQ24078RGTR
Package : VQFN(16)
Design Resources –
Package contains –
1x BQ24078 (Number of IC ordered)